Pallet Shuttle system in Litera Meat warehouse
13/02/2019
Litera Meat, an Italian Pini group meat subsidiary, will build two new slaughterhouses in Binéfar and San Esteban de Litera (Huesca). It involves two very ambitious projects that will jump-start the Litera County's economy. Mecalux has fitted it out the two frozen-storage chambers with the semi-automatic Pallet Shuttle system that, overall, will provide 13,358-pallet storage capacity.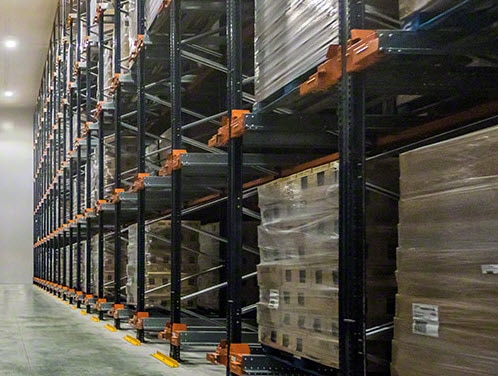 In Binéfar, the storage supplier will build a frozen-storage installation that will run at -20 ºC, as well as freezer tunnels (-35 ºC) for controlled quick-freezing of meat products. Both the frozen-installation and tunnel will be equipped with drive-in pallet racks operated by the Pallet Shuttle system.
Just 10 km away, in San Esteban de la Litera, the company will erect a second butcher installation that will also feature a -20 ºC frozen-storage chamber and freezer tunnels. Mecalux will install the semi-automatic Pallet Shuttle system and, like the other centre, the goods will be managed as per the FIFO (first in, first out) principle, i.e. the first pallet in, is the first one out.
About Litera Meat
Litera Meat is a meat company that started out in Binéfar (Huesca) in 2018. It is part of the Pini meats group, which has production centres in Italy, Hungary and Poland.