Automated warehouse for handmade yogurt from El Pastoret de la Segarra
13/06/2019
El Pastoret de la Segarra, a company specialising in the productions of yogurt and other homestyle dairy products, will open an automated warehouse in its logistics centre located in Sant Guim de Freixenet (Lleida, Spain) with capacity for 1,832 pallets. Additionally, a full picking area consisting of live storage channels will be set up to streamline order processing. All operations will be managed by Easy WMS, the WMS of Mecalux.
The warehouse, which will work at a controlled-temperature of 4 ºC, will comprise two aisles with double-deep racks on both sides measuring 13 m high. A twin-mast stacker crane equipped with double-deep telescopic forks, capable of reaching the second position at all storage levels, will run through each 33-metre long aisle.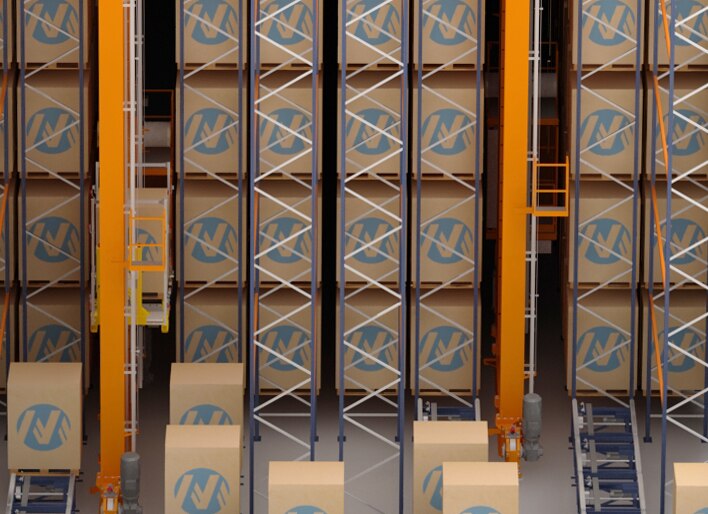 A large area will be set aside for order fulfilment. On the one hand, live channels will be installed on one side of the automated warehouse and the stacker crane will supply them with the required pallets. Directly opposite, several blocks of live channels will be placed in parallel, with a central aisle where a transfer car will circulate, distributing the pallets in the corresponding channels.
From a family-owned cheesery to a state-of-the-art factory
Established in 1992 as a family business in the Catalonian county of La Segarra, El Pastoret de la Segarra has captured the market by producing the highest quality yogurts and other artisanal dairy products. In 2010, as demand increased and new markets expanded, it renovated its installations building the most modern dairy factory in Europe. The continuous improvement and implementation of technology in its facilities mean it can pursue the development of traditional recipes in the most innovative way.