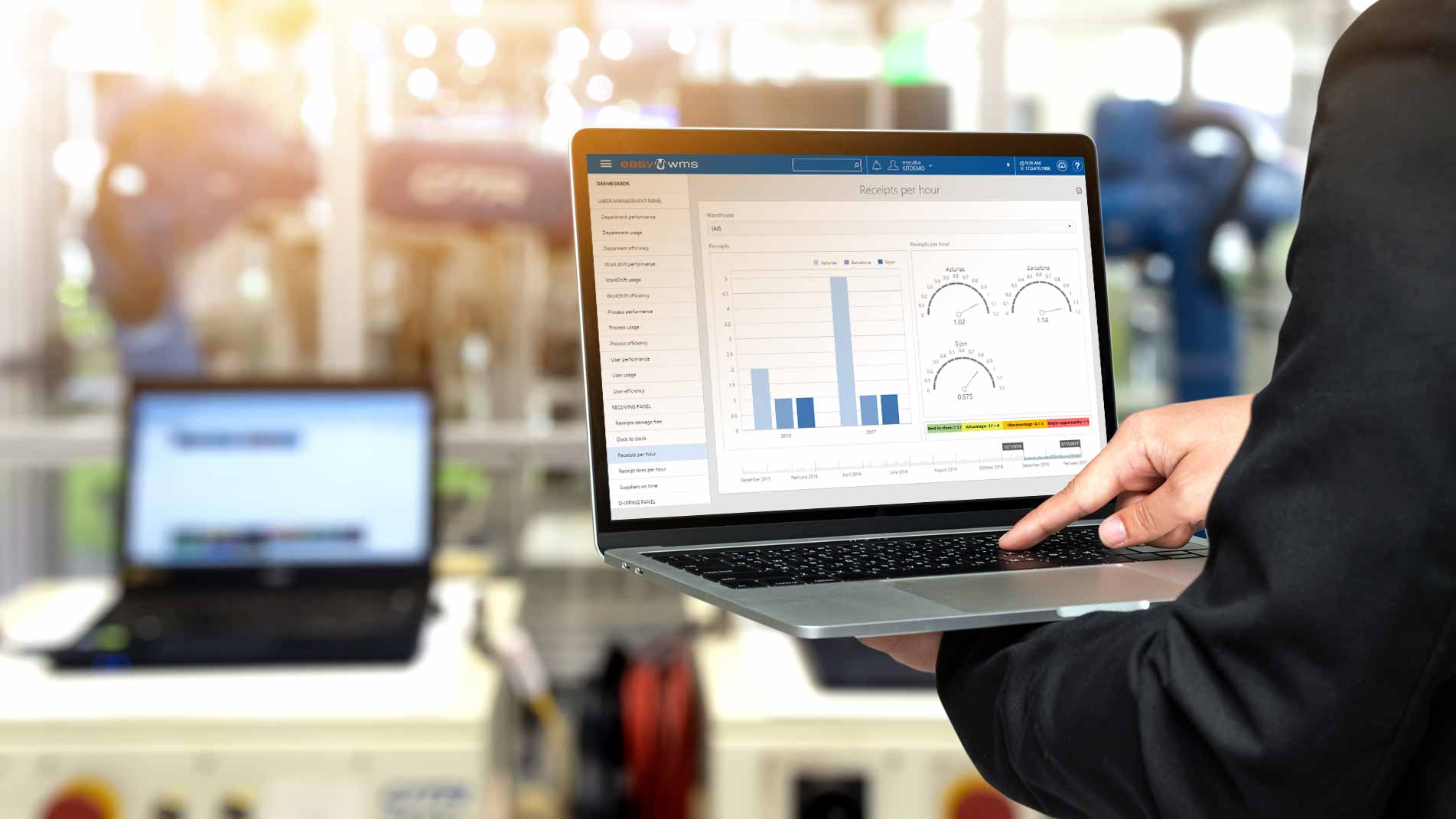 Supply Chain Analytics Software
Make strategic decisions with instant open-ended visibility of your operations.
Ask our experts
React fast with streamlined access to your information.
A quick look will show you the different indicators within your supply chain, letting you:
Know your operations from top to bottom.
Visualise your company's information.
Enhance workflows by consulting your information at any time and from any device.
Leverage your big data, and be less dependent on your IT specialists.
Keep yourself informed, and make better decisions.
Oversee your business via the system, by setting up automatic notifications.
The Supply Chain Analytics Software lets you customise and expand the system (consult options and fees with Customer Service). However, it includes by default complete control screens that comprise most of the functionalities or indicators used on a daily basis.
These ready-made screens include:
Receiving Panel
Dock to stock.
Percent of undamaged receipts per supplier and per day.
Receptions and reception lines received per hour.
On time suppliers per day.
Outputs panel
Line fill rate.
Order fill rate.
Lines inserted, issued, packed, loaded and closed per hour.
Orders dispatched per hour.
Order on time and ready to ship.
Order accuracy panel
Order picking accuracy.
Picking accuracy in picked orders, grouped by order type.
Shipped complete orders.
Shipped vs ordered ratios.
Customer panel
SKU percent in stock.
Backorders percent.
Dispatches done on time.
Internal order cycle time.
Quality panel
Percent of unsaleable goods.
Stock shrinkage.
Capacity and usage panel
Percent of warehouse locations used per rack type.
Percent of warehouse volume used per rack type.
Percent of warehouse used per item type.
Days on hand per item type.
Days on hand per item.
Productivity panel
By department.
By work shift.
By user.
By process.